Gnft.
I need to open a Microsoft console from FireFox, and that console needs SilverLight.
Silverlight is a free plug-in, powered by the .NET framework, auch es ist eine Erweiterung für Webbrowser, die die Ausführung von Rich Internet Applications ermöglicht. Außerdem wird es als Framework für Apps für Windows Phone 7 verwendet.
Linux match for SilverLight is a Pipelight, which works for all Linux browsers and does not need a full Wine (so is much gentler for system resources).
Pipelight allows one to run Windows browser plugins in the context of Linux browsers.To Achieve this Pipelight does the following :
* Connects the Windows DLL with the Linux process
* Translates between platform dependent differences on the NPAPI
* Uses a Patched Wine version
Pipelight needs to start Wine to execute the pluginloader. This May Slow down the Start of Your Browser.
How to install :
1. Insert necessary repository :
# wget http://download.opensuse.org/repositories/home:/DarkPlayer:/Pipelight/CentOS_CentOS-6/home:DarkPlayer:Pipelight.repo -O /etc/yum.repos.d/pipelight.repo
If PC does not resolve the address, add proxy server entry on OS level, and from CLI :
# export http_proxy="http://10.10.10.94:8080″
# export ftp_proxy="http://10.10.10.94:8080″
# export https_proxy="http://10.10.10.94:8080″
2. Install package :
# yum install pipelight
…..
Complete!
# pipelight-plugin –update
3. Plug-in activation
# pipelight-plugin –enable silverlight
…..
Plugin silverlight5.1 is now enabled
If plug-in needs to be deactivated, only do : # pipelight-plugin –disable pluginname
4. Testing :
Go to site : http://bubblemark.com/silverlight2.html
Wine installation takes a few minutes!
Here is what you get on the page :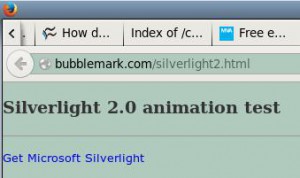 5. How to skip browser test
Use "user agent switcher" for this.
Install "User Agent Overrider" from Firefox ADD-ONS page, or (easier) from this link.
After installation (does not need FF restart), next to the URL bar is a new icon (looks like a small crown) :



Before opening the site, choose the combination of OS and browser :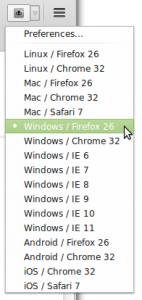 Good link.