If you want to add a contact form to your WordPress site or blog (like the one I have here), here is what you need to do :
1. Add plugin directly from a blog Dashboard
There are a few for contacts, and I have used "Contact Form 7" (link)
Install and activate the plug-in.
2. Open the installed plug-in with "Contact/Contact Forms" and copy the content in a blog post/new page as is. This will give you a default working contact form.
3. Adjust the contact form according to your needs
Go to "Contact/Add new" and adjust all as you need it to be.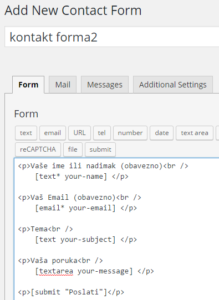 When you have changed all that you want to, there will be a new string at the top.
4. Insert this new string in the contact form page.