1. Command "net group" may be used only directly on AD server
2. Iz komandne linije (koja je OBAVEZNO otvorena kao user pod željenim domenom) pustiti komandu :
"C:\Windows\System32\rundll32.exe" dsquery.dll,OpenQueryWindow
Koja otvara prozor sa upitima :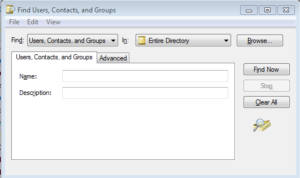 I to daje priličnu količinu podataka koji su povučeni sa AD-a.
ALI ne daje korisnički user, što mi treba radi upita kroz PHP skripte.
3. Podatak o username-u sa na kraju dobila korišćenjem upita sa nivoa Linux-a :
# ldapsearch -h IP-AD -x -D "veldaebel@moj.domen" -b "dc=moj,dc=domen" -W "(cn=petar petrovic)"
4. Postoji gomila free GUI tool-ova za WIN 7 za pretragu AD zapisa :
a) LDAPExplorerTool 2 – radi, ali daje samo "drvo" bez opcija pretrage (link)
b) Softerra LDAP Browser 4.5 (link) – mnogo opcija (što je malo zbunjujuće), ali deluje dobro i daje mi potrebne podatke!