WIN 2008 server
1. Install SNMP service on WIN 2008 (it is a "Feature")
2. Restart WIN server (so SNMP can be configured)
3. Configure SNMP service (community, define SNMP/Zabbix server, give read-only rights)
Zabbix server – basics
1. Set new server into a group (make it if it does not exist). Define that it is a SNMP communication :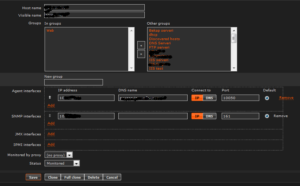 Define BOTH the IP for server and its FQDN!
2. Define templates (good link). I put one for my WIN server : "Template SNMP OS Windows"
3. Wait for about 2h for initial data to gather (best to look under "Monitoring"/"Latest Data"; good link).
Zabbix server – triggers and graphs
SNMP ne prepoznaje zauzetu količinu mesta na disku, pa moram da se zezam sa MIB browser-om da vidim tačan naziv.
Ovaj ManageEngine ne valja, neće ni da se pokrene kako treba.
Ovaj od ireasoning-a bar radi, ja sam uzela (naravno) free edition.
Javlja se i greška u logovima WIN 2008 :
"The SNMP Event Log Extension Agent does not initialize correctly "
Za šta postoji hotfix ovde.